The 9th forum
October 2002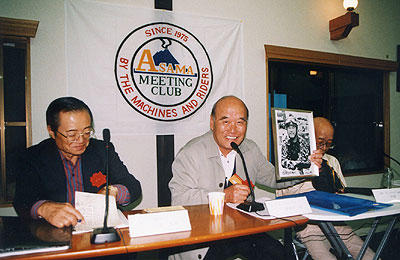 Guests
Former president of Yamada-Rinseikan
Sigeo Ohzeki
Former work rider of YAMAHA
Hiroshi Hasegawa
Former work rider of YAMAHA
Akiyasu Motohashi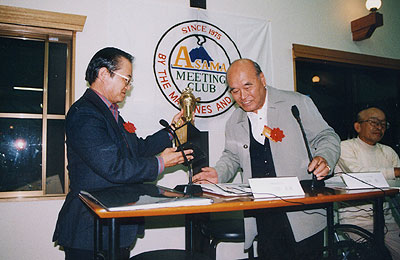 Ohzeki is the last president of Yamada-Rinseikan. Hasegawa participated in the 3rd Asama race and 500cc endurance class with Japanese HOSK. He did Fumio Ito's BMW and Kunimitsu Takahasi's BSA and equal competition and became the fourth place.

Two parts advanced to the discussion that increased Motohashi of YAMAHA, Iida and Tanaka and Komito of HONDA. We were able to hear different posture, a way of thinking of Yamaha and Honda about 2 cycles.

The 10th forum
October 2003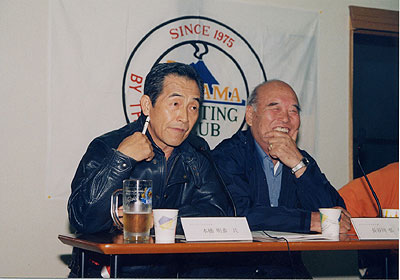 Guests
Former work rider of YAMAHA
Hiroshi Hasegawa
Former work rider of YAMAHA
Akiyasu Motohashi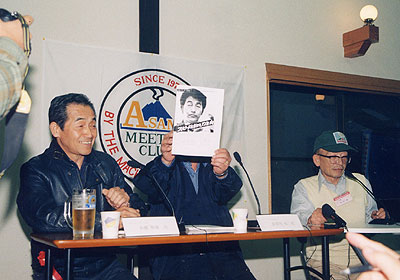 Although last time Hasegawa was a slight nervous, but he talked fluently because it is the second for him this time.And forum reached at the climax when Motohashi talked recollections of Fumio Itoh

The 11th forum
May 2004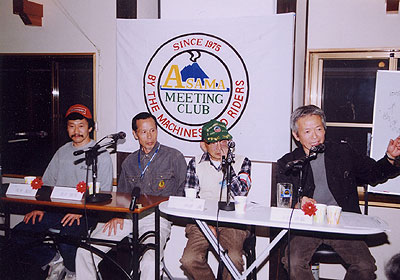 Guests
Former development charge of BRIDGESTONE motor
Hirotake Tachihana
BRIDGESTONE tire
Asao Kanai
motor cycle shop ACTIVITY
Yoshinoby Mogi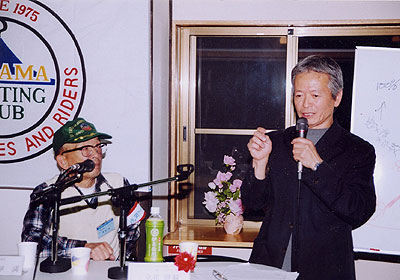 Tachihana talked about development of 'BRIDGESTONE 350TR' and a sale pilgrimage in U.S.A. Kanai talked about reproduction sale of a classic racing tire and supply of parts.
How did you like Mogi who take part in classic motor cycle races with BRIDGESTONE racer now.
The forum was very pleasant when Tanaka, Mizunuma, Oguma joined talking.

The 12th forum

October 2004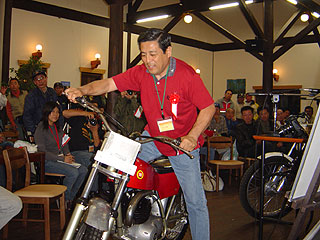 Guests
Toshiki Nishiyama
TOSHI NISHIYAMA told a challenge to the world.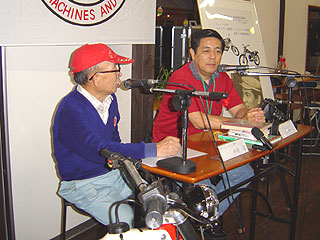 He inherited blood of father who devoted himself to "Asama Clubman Race" holding in 1958. He participated in English competition in May1971 as a Japanese for the first time. And He got the 'First Award' by 'Scotish Six Days Trial'.

PREVIOUS
RETURN
NEXT