The 13th forum
May 2005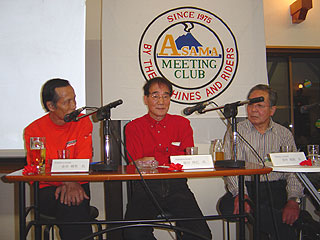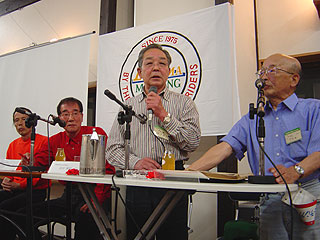 Guests
Teisuke Tanaka
Naomi Taniguchi
Asao Kanai

The forum that greeted 50 years from Asama race met Tanaka, Taniguch and Kanai, and it was held.
Kunimitsu Takahashi visited a memorial in a busy schedule. And fe was donated the trophy which won the first championship at clubman race 350cc class in 1958.
The topic of the forum were 'competition of HONDA's Taniguchi and MARUSHO's Fumio Itoh in 1955' and 'A story of Isle of Man expedition' and 'The story that the postage stamp which designed him was issued in the Isle of Man in 1998.'
Tanaka of a teammate told those days, too. The story that he couldn't yet speak is fun in the future.
We could hear a story of racing tire reproduction production for classic races of Kanai slowly and carefully this time.

The 14th forum
October 2005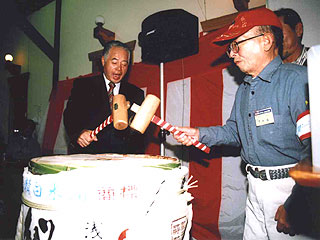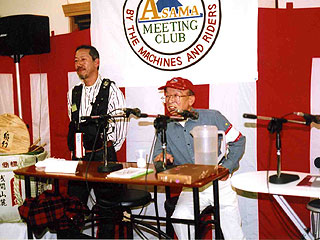 It's the 30th anniversary Asama Meeting Club. So this forum became memory of it. Also we had a celebration. We toasted it by leading of Hagiwara 'manager at association of sightseeing of a local representative' and Nakaoki 'the chief director of our club'. Nakaoki told club's way until today. Aida, Inoue, Nakagawa and some members told a memory of 30 years.
We could invite Kamitani, Oguma, Hidaka who are former development charge of HONDA MC, Uno who is former YAMAHA, Watanabe who played an active part in the race at Suzuka, Kanai who is former BS company, Nishiyama who introduced a trial to Japan, Hukuhara who is news writer and many guests.
The 15th forum
May 2006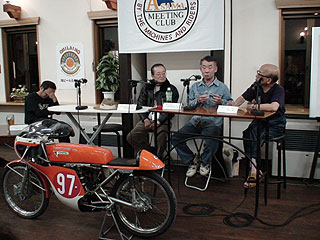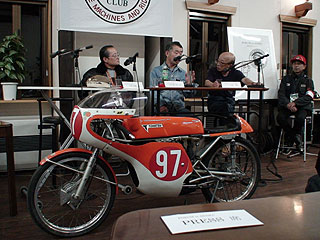 Junichirou Uno who played an active part in the race as team YAMAHA is still enjoying race activity now. He ran with 'the Tohatsu 50 racer' in Isle of Man TT classic races of 2004.A motorcycle of photo is that motorcycle. It was brought back from England by Doi. In the latter half of a forum, We could listen and enjoy Ohzeki's story of British racer. Iida and Oguma who are former HONDA and Ozeki participated as a guest.
The 16th forum
October 2006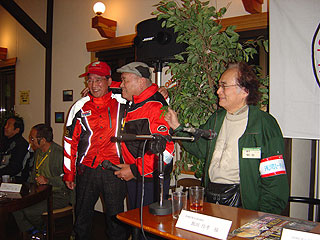 It was the 50th anniversary from Asama race started last year. And It will be the 100th anniversary from Isle of Man TT race started next year. We invited Mr,Yoshitaka Iida who participated in Isle of Man TT race as team manager of HONDA from 1959, Naomi Taniguchi who placed the sixth place in the race and Hirosi Hasegawa who participated in the race as team YAMAHA from 1961. They told a chllenge which is from Asama race to Isle of Man TT race to the world . Also Yamashita who struggled desperately with Redman in Japan GP joined a talking. Kamitani who was in HONDA reported the state of the local tentative running for the Miyake-jima Island race plan. Oguma told that he conquered the world grand prix with two stroke engines. Kanai who is BS company told about tire development.
PREVIOUS
RETURN
NEXT